Here you can gaze at some pictures of the band and also some that they think are cool! Click on the pictures to get a larger version.
The following is an animation that is modestly called the "SOS Ride"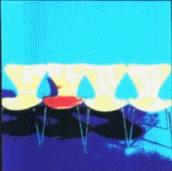 Speaking of Sarah's Bio!(June '99)
With a sound that has been picturesquely described as "La la la then RAH RAH RAH", Speaking of Sarah are something of a musical enigma. Gliding smoothly from the melodic to the cyclonic, they whisk the listener into a world where gentle vocals frolic with surging rhythms and guitars fear neither distortion nor purity. In a desperate attempt to classify their unique sound, reviewers have tried many names to evoke a comparison (Garbage, Smashing Pumpkins, Frente, Sixpence None The Richer, Alanis Morissette, Grammatrain, Considering Lily,.) but the truth is that none of these bands has yet managed to sound quite the same as Speaking of Sarah.
The four members - Di, Muz, Trev and Tim - got together in 1996 and, like a living, breathing antithesis of the molecular world, found that their collective musical energy was more than the sum of the individual parts. This strange chemical reaction led to a self-titled CD in October 1997 which received favourable reviews both within the band and from people who aren't in it: "A tight, punchy band", ".something for everyone. Thought-provoking but not boring", "Diana's vocals are like cotton-candy to my ears."
Currently, Speaking of Sarah are in the early stages of writing and recording material for a second album, hopefully to be released October 1999. Speaking of Sarah is:
Diana Blythe - vocals
Murray Blythe - guitar, bgv
Trevor Hodge - bass, bgv
Tim Jarrett - drums
Contact: * c/o 7 Cadac Place, Schofields, 2762 * (02)96261361 *
speaking_of_sarah@hotmail.com